Verbal Security: The Power of Words
Dr. Gary VandenBos discusses the importance of the words used in psychotherapy, useful phrases in psychotherapy with schizophrenic patients, and physical steps therapists can take to safeguard themselves with potentially violent patients.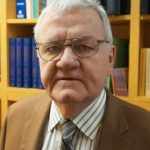 Gary R. VandenBos, PhD, previously served as the publisher of the American Psychological Association for over 30 years. He is the coauthor of Psychotherapy with Schizophrenics: The Treatment of Choice.