Becoming a More Responsive, Humble, Effective Supervisor
Dr. Heidi Hutman—Assistant Professor in the College of Education and Human Development at Temple University in Philadelphia—discusses supervision and training in health service psychology, with an emphasis on multicultural competency and development. She highlights the importance of a strong supervisor-supervisee training relationship and how to have conversations that encourage trust and understanding in supervision settings.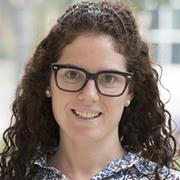 Dr. Heidi Hutman (she/her) received her PhD from the University at Albany, and completed her APA-accredited predoctoral internship at University of Maryland's counseling center. Her research and teaching interests are in multicultural competency development as well as clinical supervision and training. In particular, she is interested in how and to what extent supervisor multicultural competence and the relationship between supervisors and supervisees influence outcomes in supervision and training, as well as the relationships among supervision and therapy outcomes. Originally from Montreal, Canada, she was a licensed professional counselor in the province of Quebec and is currently pursuing licensure as a psychologist in Pennsylvania. She is actively involved in the Society of Counseling Psychology of the American Psychological Association.