Dr. Morgan Sammons on Prescribing Psychology
Dr. Morgan Sammons discusses prescribing psychology. Dr. Sammons provides a background on the history of health service psychologists prescribing psychotropic medications, an update on current training requirements, and insight on what the future of prescribing psychology might look like.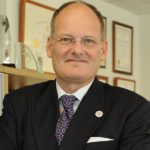 Morgan T. Sammons, PhD, ABPP, served as CEO of the National Register of Health Service Psychologists from 2014-2022, as Dean of the California School of Professional Psychology (CSPP) at Alliant International University, as President of APA's Division 55, the Society for Prescribing Psychology, and as Captain in the United States Navy.