Dr. Alfonso Mercado on Clinical Implications of Family Separations
Dr. Alfonso Mercado—a licensed psychologist and Associate Professor at the University of Texas-Rio Grande Valley—discusses the mental health impacts and implications of policies of family separation.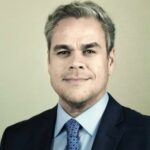 Dr. Alfonso Mercado is an Associate Professor in the Department of Psychological Science and Department of Psychiatry in the School of Medicine at the University of Texas-Rio Grande Valley (UTRGV) and a Licensed Psychologist. His research focus is on Latino mental health, including immigration, trauma, and multicultural interventions. He is co-author of Cultural Competency in Psychological Assessment: Working Effectively with Latinx Populations, an Oxford University Press book. He has presented his research and clinical experience to U.S. Congress including the U.S. Congressional Hispanic Caucus on the mental health needs of Latino children and families.   
You can access clinical resources, some of which have been developed by Dr. Alfonso and colleagues, and learn more about related projects on these sites mentioned by Dr. Mercado: Latinx Immigrant Health Alliance, United We Dream, UTRGV Multicultural Clinical Lab, Texas Psychological Association, and other professional organizations.