Dr. Wei-Chiao Hsu on Providing Bilingual Psychotherapy Services
Wei-Chiao Hsu—a licensed psychologist who practices in both English and Mandarin—discusses finding a bilingual psychologist in college mental health settings, training to be a bilingual psychologist, and the clinical application of bilingual skills.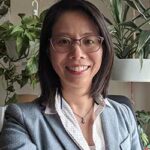 Dr. Wei-Chiao Hsu is a licensed psychologist practicing in a college mental health center. Unique for the field, she is one of the few bilingual psychologists practicing in English and Mandarin. Dr. Hsu practices, supervises, and consults at the University of Wisconsin-Madison's University Health Services. She is the membership officer for the Taiwan Psychology Network and has six years of clinical experience delivering bilingual services.