Dr. Leah Katz on Helping Clients Get "Unstuck"
Dr. Leah Katz—psychologist, social media influencer, and author of Gutsy: Mindfulness Practices for Everyday Bravery—reframes how we understand bravery by focusing on celebrating the small but profound moments of what it is to be human. She incorporates her personal approach to tackling anxiety through mindfulness and related clinical practices.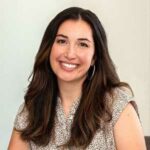 Leah Katz, PhD, is a clinical psychologist and author practicing in Portland, Oregon. She currently works in private practice where she specializes in working with teenagers and adults, with a focus on treating anxiety and depression. She primarily utilizes a hybrid of cognitive behavioral, ACT, and mindfulness techniques in her therapy work.
You can learn more about Dr. Katz and her work on her website.