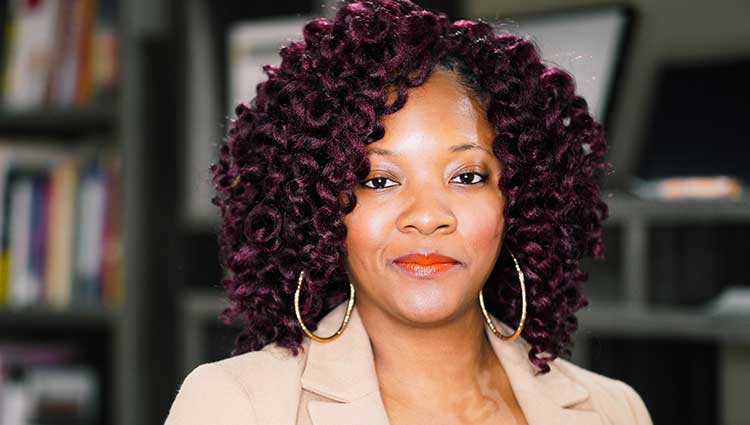 We are pleased to introduce our June 2022 National Register Member Spotlight, Robyn L. Gobin, PhD. 
Dr. Gobin recently published a new book, The Black Woman's Guide to Overcoming Domestic Violence. Grounded in cognitive behavioral therapy (CBT), The Black Woman's Guide to Overcoming Domestic Violence addresses the unique struggles faced by Black women who have experienced domestic violence and provides practical and empowering tools to help Black women understand and heal from trauma, leave harmful situations, and regain a sense of safety and freedom. The final chapter provides guidance to friends, family, non-abusive partners, and mental health professionals wishing to support Black women on their healing journeys. 
Robyn L. Gobin, PhD, is an Associate Professor at the University of Illinois at Urbana Champaign and is the Director of the Transforming Trauma and Mental Health Research Lab at the institution. For the past two years, Dr. Gobin has worked with the National Register as the liaison from APA's Committee on Early Career Psychologists. She currently serves on the Board of Directors for the Life Balance and Wellness Institute (LBWI), and she is the Chair of the External Affairs Committee for DREAAM (Driven to Reach Excellence and Academic Achievement for Males) House. In 2016, Dr. Gobin was awarded the Judy E. Hall, PhD, Early Career Psychologist Award by the National Register. Throughout her career, Dr. Gobin has dedicated herself to understanding the impact of interpersonal violence (e.g., child abuse, sexual assault, domestic violence) and betrayal on mental health among high-risk underserved populations, most notably women and veterans. Dr. Gobin is a fellow of the APA Minority Fellowship Program and has held leadership positions in the Association of Black Psychologists, APA's Society for the Psychological Study of Culture, Ethnicity, and Race (Division 45), APA Division of Trauma Psychology, and the National Black Graduate Student Association. She has participated in advocacy on Capitol Hill, informing Congress members about key issues impacting the field of psychology. Dr. Gobin also serves as a dissertation committee member mentoring several doctoral candidates as they complete their degrees.