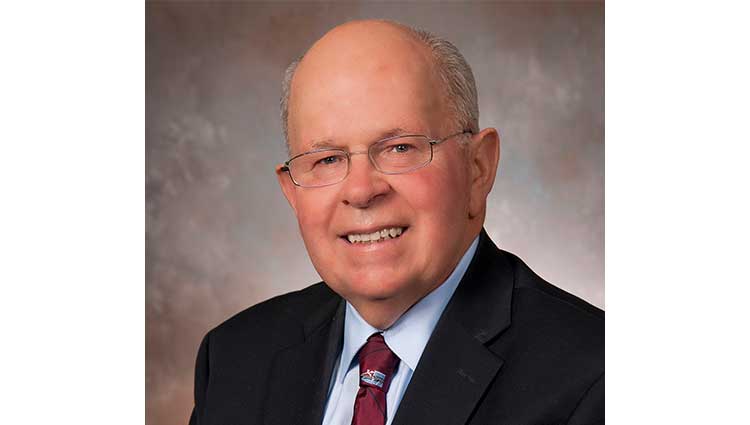 The National Register of Health Service Psychologists is proud to present the 2021 Alfred M. Wellner Lifetime Achievement Award for Clinical Excellence to Pat DeLeon, PhD, MPH, JD, of the Graduate School of Nursing at the Uniformed Services University.
This award is named in honor of the National Register's first Executive Officer, Alfred M. Wellner, PhD. The Wellner awards, offered for research and clinical excellence, are the highest honors bestowed on a Registrant to commemorate numerous and significant contributions to psychology during a distinguished career.
The National Register's Awards Committee selected Dr. DeLeon for the Wellner Award for Clinical Excellence based on his career long contributions to professional psychology as an innovator and leader. His continual legislative, professional, and personal advocacy has advanced the standing of health service psychologists as health care practitioners. His leadership, including a term as APA president, has inspired other psychologists to follow in his footsteps.
Upon receiving the award, Dr. DeLeon said, "Having worked closely with Al Wellner from the very beginning of the National Register, this recognition is truly special and brings back many fond memories of his vision, dedication, and commitment to psychology. Mahalo."
Pat DeLeon, PhD, MPH, JD, is a distinguished Professor in the Graduate School of Nursing at the Uniformed Services University. A graduate of Amherst College, he obtained his PhD from Purdue University. After working for the Peace Corps, he joined U.S. Senator Inouye on the first day of the Watergate Hearings. After 38+ years, he retired as the Senator's chief of staff. In 2000, he served as APA President and has been elected to the National Academy of Medicine. He has received three honorary degrees and has over 250 publications. He is the editor of Division 18's journal Psychological Services.
Dr. DeLeon was initially credentialed by the National Register in 1975.
This announcement will also be featured in the National Register's Journal of Health Service Psychology.
About the National Register of Health Service Psychologists
The National Register of Health Service Psychologists was established in 1974 and is the largest credentialing organization for psychologists and psychology doctoral students. We are an independent nonprofit organization dedicated to improving healthcare by identifying psychologists who meet specific education and training standards, and by verifying these professionals to consumers, healthcare organizations, and regulatory bodies. The National Register currently credentials 10,000 Health Service Psychologists and has approximately 3,500 psychology doctoral student and postdoctoral trainee members of its Associate Program. For more information, visit www.nationalregister.org.
###
For more information about this announcement, contact the National Register at 202.783.7663.