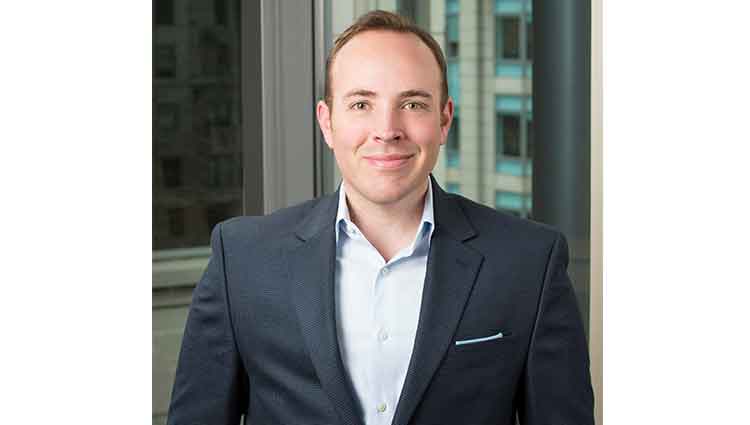 The National Register Board of Directors elected Riley Berg, JD, to a four-year term—as a Public Representative of the Board—that began January 1, 2022.
In response to his election, Mr. Berg remarked, "I am thrilled to bring my independence and creativity to the role of Public Representative on the Board of the National Register, and look forward to the work we will do together to address the mental health crisis facing our country and ensure practitioners have the professional home and support needed to face this challenge head-on."
Beth N. Rom-Rymer, PhD, Chair of the National Register Board of Directors, commented on the election: "On behalf of the Board of Directors, congratulations to Mr. Berg. We look forward to working with our newly elected member as we continue to strengthen the identity of the National Register as the professional home for health service psychologists."
Mr. Berg is a graduate of the University of North Carolina at Chapel Hill and North Carolina Central University, where he earned his law degree. He is an attorney at Arnold & Porter Kaye Scholer LLP, where he specializes in complex commercial litigation, regulatory actions, and government investigations, including high-profile matters related to product liability, mass tort and intellectual property. Representative sectors include healthcare, consumer goods, finance, manufacturing, and entertainment. He has served on the boards of numerous charitable organizations, ranging from the national committee of the Boy Scouts of America to his local church's vestry. He is also the chief architect of Country First, a cross-partisan political movement focused on addressing the toxic tribalism plaguing American politics.
About the National Register of Health Service Psychologists
The National Register of Health Service Psychologists was established in 1974 and is the largest credentialing organization for psychologists and psychology doctoral students. We are an independent nonprofit organization dedicated to improving healthcare by identifying psychologists who meet specific education and training standards, and by verifying these professionals to consumers, healthcare organizations, and regulatory bodies. The National Register currently credentials 10,000 Health Service Psychologists and has approximately 5,000 psychology doctoral student and postdoctoral trainee members of the Associate Program. For more information, visit www.nationalregister.org.
###
For more information about this announcement, contact the National Register at 202.783.7663.