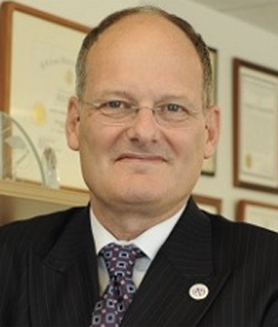 Morgan T. Sammons, PhD, ABPP
Morgan T. Sammons, PhD, ABPP, is the Chief Executive Officer of the National Register of Health Service Psychologists. He has a long history of leadership and advocacy in the profession, including many years' experience working with the National Register, having served as Chair of the Board of Directors from 2004 to 2008. He has also served as Systemwide Dean of the California School of Professional Psychology. He is a retired US Navy Captain, and during his naval career he served as the Navy's Clinical Psychology Specialty Leader, Special Assistant to the Navy Surgeon General for Mental Health and Traumatic Brain Injury, and in a number of positions both in the U.S. and abroad. Dr. Sammons is a diplomate of the American Board of Professional Psychology (Clinical), and a Fellow of the American Psychological Association. He contributes regularly to professional literature and presents widely on issues pertaining to clinical practice and the advancement of psychology.
Dr. Sammons has extensive prior editorial experience, having served as an Associate Editor for the APA journals Professional Psychology Research and Practice (2001–2005) and Psychological Services (2005–2015), the APA affiliated journal Military Psychology (2011–2015), as well as terms on the editorial board or as a guest editor of The Journal of Clinical Psychology (In Session) and the Journal of Clinical Psychology in Medical Settings.