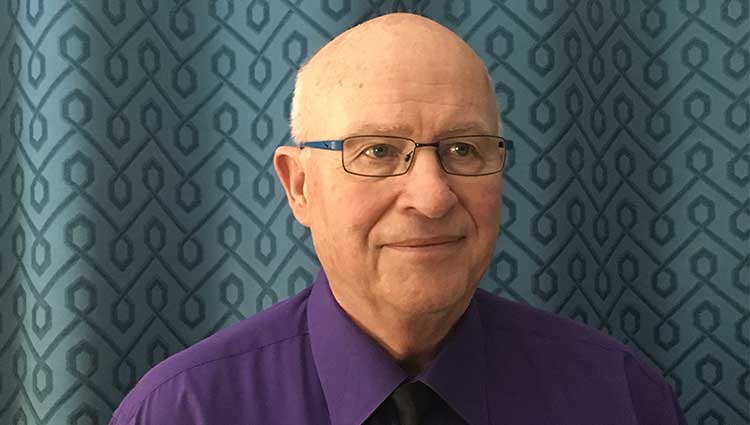 The National Register of Health Service Psychologists is proud to present the 2022 Alfred M. Wellner Lifetime Achievement Award for Practice to Rudy Nydegger, PhD, ABPP, of Union College in Schenectady, NY.
This award is named in honor of the National Register's first Executive Officer, Alfred M. Wellner, PhD. The Wellner awards, offered for research and practice, are the highest honors bestowed on a Registrant to commemorate numerous and significant contributions to psychology during a distinguished career.
The National Register's Awards Committee selected Dr. Nydegger for the Wellner Award for Practice based on his work in advancing the hospice movement, media work in promoting psychology, and advocacy for the profession in New York.
Upon receiving the award, Dr. Nydegger said, "It is difficult for me to express how touched and appreciative I am to learn that I am to receive the Alfred Wellner Award from the National Register. Knowing the names of some of the previous recipients, I am truly humbled to be even considered for this wonderful and prestigious recognition. What I find particularly meaningful is that my career has been evaluated in its totality rather than just recognizing the usual factors that many awards consider. The fact that the Selection Committee looked at my work with and for the Hospice Movement, my commitment to the importance of public education and outreach for Psychology, and my involvement in local and State Psychological organizations and community mental health issues, was very important to me. I have spent much of my professional and personal time on issues and activities that I thought were important, and to have these things considered as a part of my commitment to the profession I love makes this award the high point of my professional life. I thank the Awards Committee and the Board of Directors for this wonderful and meaningful honor."
Rudy Nydegger, PhD, ABPP, is a Board-Certified Clinical Psychologist and a Professor Emeritus of Psychology and Management at Union College. He is also the Chair of the Division of Psychology at Ellis Hospital in Schenectady, NY, and president of Psychological and Management Resources. He got his BA and MA from Wichita State University, his Ph.D. from Washington University in St. Louis, and supervised Post-Doctoral experience in Clinical Child and Adolescent Psychology from Baylor College of Medicine, and a Post-Doctoral Fellowship in Gerontology from Washington University. He has been on the faculties of Union College and Union Graduate College, Cornell University, Rice University, and Baylor College of Medicine. In addition, he is a Past-President and Chair of the Board of the National Register of Health Service Psychologists. He is also Past-President of both the New York State Psychological Association and the Psychological Association of Northeastern New York. Further, he is a past Board Member of the New York State Board of Psychology. He is a Diplomate of the American College of Clinical Psychology, a Distinguished Fellow of the National Academies of Practice, and a Distinguished Fellow of the New York State Psychological Association. He has written eight books on many topics including Depression, Anxiety, and Suicide and was co-author on a book on Workplace Violence. In addition, he has published many research and clinical articles and spoken at conferences, universities, and medical schools in the United States and many other countries as well. He was one of the founders of Community Hospice and was President of the Board of Hospice when they became the first licensed hospice program in New York and the first Medicare Certified hospice program in the country. Dr. Nydegger is married and has five children and two grandsons. Recreationally, he enjoys travel, golf, biking, and flying gliders.
Dr. Nydegger has been credentialed by the National Register since 1980.
This announcement will also be featured in the National Register's Journal of Health Service Psychology.
About the National Register of Health Service Psychologists
The National Register of Health Service Psychologists was established in 1974 and is the largest credentialing organization for psychologists and psychology doctoral students. We are an independent nonprofit organization dedicated to improving healthcare by identifying psychologists who meet specific education and training standards, and by verifying these professionals to consumers, healthcare organizations, and regulatory bodies. The National Register currently credentials 10,000 Health Service Psychologists and has approximately 4,000 psychology doctoral student and postdoctoral trainee members of its Associate Program. For more information, visit www.nationalregister.org.
###
For more information about this announcement, contact the National Register at 202.783.7663.