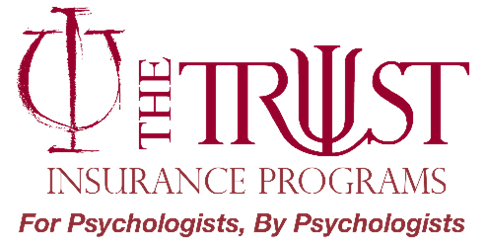 Established in 1962, The Trust is an independent business trust and leading provider of insurance and risk management programs for psychologists and psychology students nationwide. The National Register endorses The Trust as its preferred provider of professional and student liability insurance as well as other financial security products.
National Register members can save up to 25% when they switch to The Trust. This includes a 10% discount for switching your professional liability policy from another insurance carrier, plus a 15% discount when you combine 6 CE credits from any of The Trust's FREE live or on-demand Virtual Webinar Series offerings (simply submit your certificates when you apply). Student liability policies are only $35/year.
The Trust is chosen by more psychologists over any other insurance provider, and they proudly cover psychologists in all forms of practice. Policyholders get unlimited complimentary access to their Advocate 800 Program, which provides one-on-one consultations with licensed psychologists that have extensive legal, ethical and risk management expertise (not a "claims expert" or other non-psychologist professional like with other insurance providers).
Only The Trust offers the convenience of securing all your financial security needs in one location. In addition to liability insurance, they also offer cyber enterprise, income protection, business office, office overhead, long-term care, life, home, auto, and pet health. They can even assist with planning for your retirement. This "Total Package" approach covers your entire life, not just your career.

At The Trust, you're more than just a policyholder, and having a policy with them is about more than just insurance. See for yourself how affordable peace of mind can be. Visit www.trustinsurance.com or call (800) 477-1200 for details and your free, no-obligation quote.
"For Psychologists, By Psychologists"
The Trust is able to meet the needs of psychologists in ways no other insurance provider can because they are psychologists, too! From their CEO, Dr. Jana Martin, to their Board of Trustees, The Trust is composed of psychologists with strong ethics, practice, and business backgrounds, along with insurance industry professionals with expertise in malpractice, property and casualty, personal, and other lines of insurance protection. The psychologists are attuned to the discipline and profession; the insurance experts help design coverage that is innovative and broad; and all Trustees and staff work to keep The Trust's insurance plans financially strong and competitive.