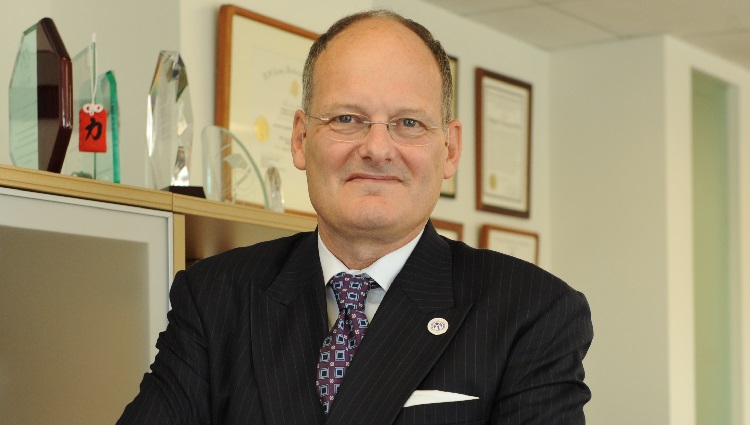 The pandemic has affected all of us in ways unimaginable just a few months ago. Over 210,000 Americans and 10,000 Canadians have perished, among the 1 million worldwide victims of the coronavirus. Our practices have been altered, our friends, colleagues and patients have fallen ill or have died, and our collective sense of security has been shaken. None of us ever anticipated that things would get this bad or that we have dug such a deep hole for ourselves to climb out of. On the other hand, while we are hard pressed to find any positive ramifications of our predicament, they do exist.
It is instructive to look back in time to the experience of others during similar crises. There is no better comparator in my mind than Samuel Pepys' diary, written almost 400 years ago in London. If you've never read it I encourage you to do so. It is surprisingly readable and its lessons very applicable today; it is simultaneously illuminating, frightening and comforting. Pepys walked through London daily on his way to the Houses of Parliament and his job as chief secretary of the British Admiralty. He observed the Great Fire of London and a massive outbreak of bubonic plague. During much of this time, England was a nation at war with the Dutch and Pepys played a central role in naval readiness. Throughout these challenges he maintained an objective, even optimistic outlook, planning for his household and the future, deliberately and frequently recording events in his diary for future readers. Although careful and quite planful, a stoic he was not, leaving nothing to fate but taking time for pleasure in the midst of a pandemic.
What positives can we ascribe to our current woeful condition? Perhaps foremost is a turn away from the rampant consumerism that has so long characterized our society. In a time when a shopping expedition is not without risk, we have learned, perhaps, to value interpersonal connections more than things (record online sales notwithstanding). Our collective negative impact on the environment has been lessened. We are rediscovering the comfort, and sometimes the skills involved in preparing food at home, and interest in growing our own provender has been rekindled. Many of us have been liberated from stressful commutes, leaving new hours in the day that can be productively spent—strengthening family and community ties or exploring interests long deferred.
This is not, of course, a glass-half-full scenario, nor do I intend to be a Pollyanna. We have frittered away our chances to save thousands of lives. Americans have repudiated science to our great collective detriment (as can be seen by the numbers cited above—210,000 American dead versus 10,000 Canadian dead). My point is simply to illustrate a certain optimism—perhaps some of the positive effects of the pandemic will endure.
We have seen both negative and positive effects of the crisis on psychological practice. You will recall that in March we surveyed many of you, along with Trust policy holders, regarding your initial response to the virus. We have now completed a second survey approximately 6 months into the pandemic. Our results are encouraging for the future of psychological practice. Full results of the survey will appear as Sammons, VandenBos, Martin and Elchert in the Fall 2020 issue of the Journal of Health Service Psychology, but I provide a brief summary here.
In March, many psychologists saw a significant decline in caseload—our survey showed that 60% of respondents reported such a decline. By September this situation had improved. While around one-third of respondents continued to report a decline in caseload, equal numbers saw an increase in patient numbers. This may reflect increased comfort with using telepsychology by both provider and patient, it may also reflect an increased demand for psychological services as we continue to grapple with the ongoing crisis.
Within a few weeks of the onset of the pandemic, overwhelming numbers of psychologists had switched at least part of their practice to telepsychology—around 85% (this number was validated by similar findings emerging from other surveys). More senior psychologists with over 26 years of practice seemed to have done so with the same alacrity as less experienced providers. Regardless of seniority, the majority of psychologists felt prepared to make this switch, likely a reflection of the many years of discussion about telepsychology that the field has engaged in.
According to our September survey results, the transformation to telepsychology has solidified and seems to represent a permanent change. Over 60% of respondents were seeing at least three-quarters of all their patients online, and the majority anticipate seeing as much as half of their caseload online after the pandemic ends. At the same time, respondents reported greater confidence in using telepsychology, which perhaps can be ascribed not only to increased familiarity with the technology but to the many hours of instructional material the National Register and other organizations rushed to provide.
We did not survey the attitudes of patients directly, but in both September and March we asked psychologists to estimate the receptivity of their patients to telepsychology. Here too we have seen a change towards acceptance of this relatively new technology. In March, almost all respondents noted that at least half of their patients didn't seem to like telepsychology. By September, over 50% of respondents noted that the majority of their patients were as accepting of telepsychology as of in-person services.
Much remains to be done. Most psychologists report that they are uncomfortable providing telepsychology services to patients at risk for suicide. (Please note the Register presented an outstanding webinar on the topic with Dr. David Jobes, which you can access here). This is understandable, but it also uncovers a gap in clinical training, regardless of delivery modality. We do not generally incorporate systematic training in suicide intervention into our educational curricula. This makes it probable that an intern confronted with a suicidal patient has not received any evidence-based instruction in managing suicidal patients prior to that encounter. This is not an acceptable scenario, and the Register has taken a specific step to remedy the problem by developing a series of clinically oriented training seminars for graduate students). We must improve our training for suicide interventions regardless of service delivery modes. The same can be said for patients with psychotic spectrum disorders and other severe forms of mental illness. Systematic training in treating severe mental disorders should not be relegated to trainers, it should be a component of the graduate curriculum.
Cybersecurity risks are amplified using telepsychology, of course, so we must not stint in our efforts to provide more secure platforms and ensure that our patients understand the risks involved. Numerous surveys have demonstrated that providers are far more concerned about security and confidentiality than patients are. This is as it should be, and providers and regulators need to continually ensure that patients' confidence is not misplaced. Not a week goes by without a report that a hospital has seen its electronic infrastructure, sometimes including patient records, hijacked by ransomware. With the electronic health record a reality, all of us must redouble our efforts to stay ahead of nefarious actors.
Most psychological tests have not been normed for remote administration, and it is daunting to consider how to perform assessments of psychomotor functioning using telepsychology. But our colleagues in neuropsychology and psychometrics are working on adaptations, and I anticipate that creative solutions to these problems will be rapidly forthcoming. Old proverbs still ring true. Similarly, regulations must keep pace with evolutions in practice. Agencies that continue to insist on in-person evaluation must balance their requirements against the risk of infection. The wheels of government grind slow, but this is a problem that requires immediate solution. Within the profession, it is clear that interjurisdictional practice will be more frequent in the future. PSYPACT is a step forward, but it is time that our licensing boards looked collectively at their requirements for practice. Patients expect the same standards of care, regardless of their location. That practitioners are beholden to widely varying standards of training and education from state to state is a problem that required fixing long ago.
So. The pandemic has created numerous challenges, some that must be urgently addressed. Insofar as we now have pressure to fix problems that have long cried out for solutions, this is not a terrible predicament. Likewise, in the despair created by COVID-19, there are elements worth salvaging that may indeed be beneficial in the long run. Some may be apparent now, some will only be shown to be beneficial in retrospect. Multiple problems will strain our creativity to find optimal solutions, and in many instances there will be no 'right' answers. But we know that there is one answer that will not work. Like the coronavirus, wishful thinking won't make them go away.
Copyright © 2020 National Register of Health Service Psychologists. All Rights Reserved.