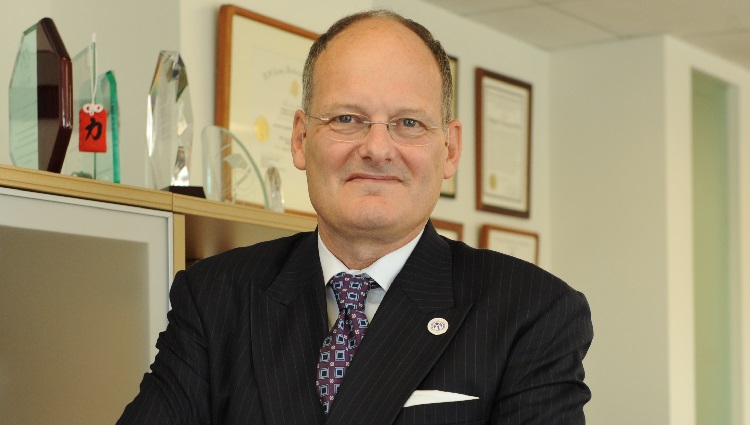 I write this column in the days following the conclusion of our now-annual National Practice Conference in Washington, DC. As you likely know, we and our partners at The Trust have now run three conferences, each of which focuses exclusively on the needs of the practicing health service psychologist. Without being too self-congratulatory, I truly believe each one is getting better and better. I'd like to share some highlights from the weekend for the sessions I personally attended.
When Jana Martin and I started planning for these conferences we sought to provide an educational experience that directly spoke to the requirements of practicing psychologists: clinical risk management and critical decision-making skills when working with unique sets of patients. This year, the risk management component of the conference started with a three-hour preconference workshop hosted by Drs. Marc Martinez, Julie Jacobs, and Leisl Bryant, who followed this presentation with a three-hour ethics and risk management roundtable during the conference itself. It is unusual, if not unique, to be able to bring keen interest to a topic such as a subpoena duces tecum, but our presenters managed to do this. Any psychologist faced with testifying or being deposed should refer to the material they discuss.
Our Friday morning keynote was provided by Dr. Miriam Delphin-Rittmon, the Assistant Secretary for Mental Health and Substance Use in the U.S. Department of Health and Human Services, the highest ranking psychologist in the Federal Government. The scope of the involvement of psychology at the national level as outlined by Dr. Delphin-Rittmon is nothing short of extraordinary. From dealing with long COVID, to our growing substance use problems, to working with those affected by war in Ukraine, psychology is represented in myriad ways throughout the federal sector. To have the profession represented at this level of government is extraordinary and speaks to the potency of our interventions.
Dr. Cesar Gonzalez of the Mayo Clinic focused his presentation on the management of transgender and gender-questioning patients. The data he presented on the numbers of transgendered individuals in the US was astonishing and speaks to the need for all clinicians to become at least broadly familiar with issues commonly experienced in this population. While the audience was at least to some extent self-selecting, it was eye-opening to understand that every participant in the seminar had treated transgendered or gender-diverse individuals.
Dr. John Norcross provided us with a brilliant presentation on matching patient preferences as the key factor in determining successful outcome of psychotherapy. The importance of assessing patient preferences not only at the inception of treatment but periodically throughout therapy cannot be understated. While John cautioned that it is not entirely true that the type of therapy provided is subservient to patient preference (there are, after all, specific psychotherapies for specific problems, which qualifies, but doesn't disprove, the Dodo Bird hypothesis), unless there is a sufficient acknowledgement of patient preferences, treatment will not succeed. John's well-standardized instrument, the Cooper-Norcross Inventory of Preferences, really is emerging as the gold standard for optimizing therapeutic outcome.
As our conference opened on Veteran's Day, we were honored to have Dr. Tamara Campbell, who is the Executive Director of the Veteran's Healthcare Administration Office of Mental Health and Suicide Prevention. Dr. Campbell, a psychologist trained at Wright State University who later completed training as a psychiatrist, spoke to the ongoing need to renew our focus on an issue that claims the lives of scores of veterans on a daily basis and outlined the ongoing response of the VHA to this pernicious issue.
Dr. Beth Darnall of Stanford University School of Medicine provided a tour-de-force overview of her attempts to realign medical approaches to pain control. Focusing on the fact that binary thinking (medication or no medication) regarding pain management does not serve patients well, Beth provided compelling evidence that a brief psychological intervention of 2 hours duration called Empowered Relief can both lessen the experience of pain, be it chronic or post-operative, and reduce the demand for opiate analgesics.
Our keynote closing talk was delivered by Dr. Thema Bryant, incoming President of the American Psychological Association. An eloquent and inspiring blend of passion and precision, Dr. Bryant spoke to the universality of trauma and the requirement to understand trauma from diverse perspectives. She reminded us of the ongoing lack of specific coursework in trauma. How can we treat this near-universal phenomenon without a solid grounding in our graduate education?
Again, I couldn't be everywhere during the conference, so there are many excellent presenters whose sessions I had to miss, but I thank them all: Dr. Ray DiGiuseppe for his preconference workshop on assessment and treatment of anger, Drs. Mary Alvord and Mi-Young Ryee for their session on engaging teens via telepsychology, Dr. Ryan DeLapp for his presentation on assessment of racial stress in Black adolescents, and Dr. Kerry Schwanz for her session on the vital topic of compassion fatigue among psychologists. I am grateful to all of them for taking the time to share their expertise in such an engaging and clinically pertinent way.
The National Practice Conference continues to grow. A reflection of the commitment that The Trust and the National Register have made to providing excellence in clinical risk management and decision-making, I hope that it will continue to be the most valuable conference health service psychologists can attend in any single year. If I saw you last weekend, thanks for attending, and if I missed you, I hope you'll consider NPC 2023!
Copyright © 2022 National Register of Health Service Psychologists. All Rights Reserved.
Read more articles like this or see examples below.