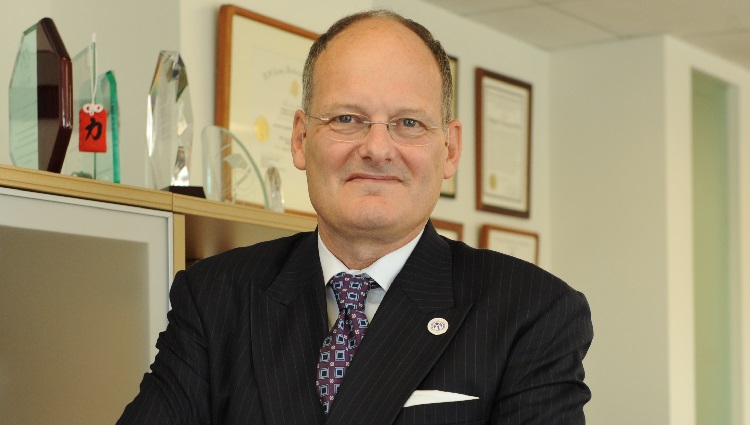 The ides of October are a challenging time for me. The annual meeting of the Association of State and Provincial Psychology Boards (ASPPB) almost always overlaps with the Collaborative Family Healthcare Association's (CFHA) annual meeting. The National Register liaisons with ASPPB and is a proud institutional partner of CFHA. Also around this time, many state psychological associations have annual conferences for which we like to provide funding. Attendance is not mandatory for any of these meetings, but not to do so means passing up great opportunities to learn more about what's going on in the world of psychology regulation and the world of integrated care, and to learn what legislative initiatives state psychological associations are sponsoring in order to protect the profession. So I try and optimize the National Register's presence at all meetings, while at the same time realizing that I leave a lot of good information on the table when I dash from one to another. This year, a busy October was further complicated (in a very good way) by our planning for the inaugural National Practice Conference (NPC), which the Register, along with our partners at the American Insurance Trust, put on in Washington, DC on November 8–9.
Let me start with CFHA. This organization has grown tremendously under the leadership of Neftali Serrano, who took over as CEO four years ago. Their conference attendance has grown significantly. The programming is increasingly compelling, and the representation of multiple provider groups in integrated care is, I truly believe, the future of health care. Neftali put together an amazing program, and had over 850 psychologists, primary care physicians, and other health and mental health providers in attendance at his conference in downtown Denver. Congratulations to Nef and his team for creating a space where all integrated care providers can join together and plan the future of health care.
Years ago, I was the Chair of APA's Committee on Rural Health. Why, you ask, was a naval officer then stationed in Washington, DC, allowed to become Chair of this committee? It certainly wasn't a nod to my rural roots in Southern Oregon. But I became a member when I was stationed at the Naval Air Station in Keflavík, Iceland, working in a small community hospital tending to the needs of around 3,000 people at one of the most remote naval installations then in existence. Set in the middle of a moss-covered lava flow in a stark, treeless, and windblown environment 25 miles from the nearest city (Reykjavík, Iceland's largest city with a total population of around 300,000), it was a superb, albeit military, example of rural healthcare delivery. It was at NAS Keflavik that I began to use telehealth, and since I was the only mental health provider who could prescribe psychotropic medications at the site, I continued to provide distance behavioral care services to the base after my return to the U.S. This experience informed my work on the Committee on Rural Health, where psychologists working in rural underserved populations in the U.S. experienced many of the same challenges I did: lack of specialty care, particularly specialty mental health care, and absence of supportive resources for those with mental health needs. Sometimes specialty care was not in a county, but literally an ocean away.
What I chiefly learned from working on the Committee for Rural Health was that rural psychologists were in many instances early adopters of strategies that would later come to define the practice of psychologists everywhere. The Committee recognized early on the potential for telepsychology, and it also recognized the necessity of psychologists working in an integrated fashion with other rural providers. The effects of social and geographic isolation, low income, minority status (often Native American healthcare problems in the rural West), and lack of access are problems that we now all acknowledge hamper access to care—regardless of where the patient and provider are located. In many respects, rural psychologists wrestled with the problem of social determinants of health before such issues were recognized as a major factor in health and healthcare delivery.
Prior to traveling to Denver, I spent a day in Minneapolis at ASPPB's annual meeting. This meeting brings together members of state, territorial, and provincial psychology boards to discuss challenges in the regulatory environment. Now I realize that psychology boards often get bad press from practitioners, but for those who are opposed to them, I would ask that you consider what your practice would be like in their absence. Licensing boards are often our first line of defense in an increasingly hostile regulatory environment. If you don't want your license to be considered equivalent to that of a cosmetologist or funeral director, you need to attend public meetings of your board to find out what they are trying to do to prevent the downgrading of your license. We only usually hear about this when boards are unsuccessful in protecting our status. You should know what they are doing behind the scenes to maintain the integrity of your license. Similarly, if you think you and your colleagues should have a say over the qualifications of other psychologists in your jurisdiction, you need to attend public meetings of your state, territorial, or provincial board. Sometimes they cannot prevent bad things from happening, as in Arizona where the governor signed a bill earlier this year that largely abrogates the authority of the board there. But we can–and should–be active participants in the regulatory process to protect our practice. The big news out of this year's ASPPB annual meeting was the expansion of PSYPACT. As I write, 12 states are now signatories, legislatures in four other states are deliberating participation, and the commission overseeing PSYPACT is hard at work devising and implementing regulations. Visit the PSYPACT website to find out more.
I have to confess that I'm having a bit of trouble concentrating on this column today. This is not due to incipient dementia (at least I hope it isn't), but instead because I'm dealing with wonderful intrusive memories about our first National Practice Conference, which we, together with The Trust, put on this past weekend. First of all, I thought the venue was superb. The Intercontinental is a new hotel on the revitalized wharf in downtown Washington, and it turned out to be a magnificent site for our inaugural conference. We had an absolutely stellar roster of providers, all of whom adhered faithfully to our theme, which was to provide the most up-to-date, clinically pertinent practice and risk management strategies to an audience of doctoral level psychologists. To name just a few of our presenters (all of our presenters were great and I would like to give a shout-out to all, but I'm only going to talk about those presenters whose sessions I sat in on).
John Norcross presented a half-day workshop on individualizing psychotherapy for every patient. John, as you know, is probably the world's best-known psychotherapy researcher, as well as a captivating and dare I say entertaining presenter. He convincingly demonstrated that you must assess your patient's preferences if you want your treatment to succeed. All valid psychotherapies help more or less to the same degree, but only if you provide what your patient wants instead of what you want to do—and you will never know unless you ask. Lesson: Patients don't come to you for the type of treatment you offer. They come to you for help in managing their problem, and unless you match your intervention with their expectations you simply cannot help at all.
Like John, Jason Ong has established a reputation as one of the preeminent researchers in his field—sleep. He is a compelling presenter who was able to translate his research findings into take-home points that psychologists can immediately implement in their treatment of sleep problems. Offered by a different presenter, this material might have been an instant cure for insomnia. But Jason had his audience riveted and asking for more.
David Jobes, another international expert in his field of suicidology, gave a half-day workshop on the ethical management of suicidal patients. Not only did Dave put paid to some outmoded methods of assessment (hint: safety contracts aren't safe for either you or your patients), he reassured his audience by providing some management guidance that can be easily incorporated into any treatment plan for a suicidal patient.
Our clinical sessions were supplemented by some outstanding keynote presentations. Congressman Alan Lowenthal, one of the two psychologist members of the House of Representatives, opened our conference with a reminder that getting involved in the political process is not an option. It's a requirement if you want to get funding for critical mental health initiatives and critical legislation that has a direct effect on psychologists' income. The process in Washington, DC, is currently broken, and Alan was unsparing in his assessment of how the Congress has lost its focus on key legislation. A vacuum exists, and Alan encouraged all psychologists to act as citizen psychologists and work to fill the void.
Ellen Kahn of the Human Rights Campaign gave us an in-depth overview on the challenges faced by LGBTQ youth, in particular gender-questioning youth. Though many of us are aware of these challenges and the nature of discrimination these young people face, the data Ellen presented on the breadth of the problem were staggering. Psychology can play an immediate role in improving the lives of these young people, and Ellen provided insight on how more of us can do this work.
Our conference wrapped up with a talk by retired General Tom Bostick, who now heads a biotechnology firm in the DC area. You might not think that Tom, who previously served as the Chief of the Army Corps of Engineers, would have much to say to a group of psychologists, but he reminded us of the importance of psychology in the military and in societal adaptation to critical issues such as climate change. An inspiring way to end our conference.
At the end of the one and one-half days, I was left with three main thoughts: First, I believe we chose the material and presenters that could speak directly to the needs of practicing psychologists, and that these needs are rarely met in other venues. Second, the audience response led me to believe that together with The Trust, the two organizations have formed what I think most practitioners could call a professional home. By providing solutions to complex clinical and risk management problems and venues to discuss them, more and more psychologists can, and I think will, call us their true clinical home. And finally, I want to do this again! Fortunately, my friend and colleague Jana Martin from The Trust agrees, and we have tentatively set the dates of November 6th and 7th of 2020 for our second National Practice Conference. Mark your calendars and we'll meet up in DC then!!!
Copyright © 2019 National Register of Health Service Psychologists. All Rights Reserved.