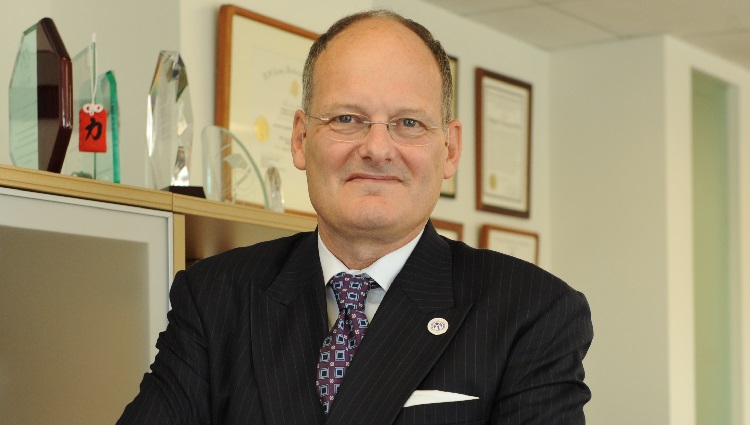 My March 3, 2020, column has been updated. We are providing you with this update as a part of the National Register's efforts to assist the profession in dealing with the current pandemic. I urge all of you to be responsible conveyors of information to your patients and to the public.
---
Related: Resources for COVID-19
---
History
On 31 December, 2019, the government of China informed the World Health Organization (WHO) of a novel pneumonia in Wuhan, Hubei Province, possibly with an epicenter in a public market that sold live wild animals for human consumption (including bats and pangolin, an armadillo-like mammal that is endangered because of a fallacious belief that its keratinous scales have medicinal properties).
The infectious agent was identified as a previously unidentified coronavirus on 9 January 2020, sequenced genetically on 12 January and patient to healthcare worker transmission was verified on 20 January. The virus is named SARS-CoV-2, and the resulting illness is called COVID19. Although two unique coronaviruses had been previously identified in humans, the similarity of this virus with those that caused previous epidemics led to well-placed fears in the scientific and medical community. On January 30, the World Health Organization declared the outbreak to be a public health emergency of international concern.
Coronaviruses were first identified in the early 2000s as causal agents of two epidemics of pneumonia like diseases – SARS (Sudden Acute Respiratory Syndrome) and MERS (Middle Eastern Respiratory Syndrome). The very high mortality rate of SARS and MERS were relatively unique. The spread of SARS was limited, largely in China, and eventually only 8076 cases were identified. Of these, however, 778 patients died. SARS achieved global notoriety because of this high mortality rate
MERS (Middle Eastern Respiratory Syndrome) is a related coronavirus first identified in humans in 2012. Like SARS, its global spread has been limited, only around 2200 cases have been identified. Its symptoms are general, mostly flu-like but with lower gastrointestinal symptoms as well. The majority of the cases, over 1800, are in Saudi Arabia, and younger to middle aged men seem to be most affected (perhaps because they are more likely to be contact with camels). Like SARS, the principle animal reservoir is bats, but much animal-human transmission occurs after humans interact with infected dromedary camels. So this too appears to be a limited, although ongoing, disease outbreak. Why the concern? Because this virus is significantly more lethal than SARS, with over 35% of infected patients to date dying of the disease. Like SARS, elderly patients are more vulnerable, particularly those with pulmonary illnesses or diabetes.
Like SARS and MERS, the primary reservoir for SARS-CoV-2 appears to be bats, although other mammals that humans either interact with or eat also serve as reservoirs. Both interspecies and intraspecies transmission are present. The incubation period in humans is estimated at 2-10 days. Most resulting illnesses are mild, with fever, cough, and other flu or cold-like upper respiratory symptoms. In more severely ill patients, pneumonia develops, often within a week of infection, and at least in hospital experience in China, as many as 10% of hospitalized patients go on to develop severe, potentially life-threatening, symptoms. Like SARS, COVID-19 is uncommon in children and in those with healthy immune systems, and like other influenzas it is most dangerous in the elderly or in those with medical compromise. Unlike SARS, there is a broader range of symptoms, with more cases on the mild side of the spectrum.
On March 2, 80,000 cases were reported worldwide, with 3,000 deaths attributed to the virus. On March 15, over 153,500 cases were reported with over 5,700 deaths. As of March 18, 2020, the World Health Organization reported over 190,000 cases with over 7,800 deaths in 163 countries. COVID19 cases are reported now in all 50 US states.
Current Situation
The American Psychological Association, The Association of State and Provincial Psychology Boards, the Collaborative Family Healthcare Association, the Trust, and other psychological organizations are, like the Register, attempting to provide as many current resources as possible to assist providers in understanding the challenges of patient care during a pandemic. Please visit our COVID-19 resource page. We are updating our resources on a continual basis. The page contains links to the WHO's rolling update page, resources from the Centers from Disease Control, and the major medical journals. In the absence of psychology specific guidance (we are not first responders, after all), our primary role is to provide continuity of services wherever possible and to assist patients and communities in reducing anxiety and modulating irrational behavior.
The pandemic has caused a recent surge in interest in telepsychology. While telepsychology may be a viable medium for some providers, it is not a panacea, nor should any provider who has not been trained to provide telepsychology services do so. Both patient and provider factors are critical in determining who should provide telepsychology, as are state laws and regulations as well as policies of third party payors.
The skills of psychologists will certainly be called upon as arbiters of impartial information and as psychotherapists to allay patient anxiety and deal with individual and group concerns regarding the virus. Here are my suggestions about how we can best assist in the response:
Stay informed. Impartial sources such as the CDC and WHO are your best sources of information. Update your knowledge continually so you can provide the most current information to patients and colleagues.
Unless you are specifically trained to do so, do NOT provide services via telepsychology. Here are just a few of the issues that you must consider prior to rendering telepsychology services (by this I mean any electronic form of psychological service provision, including telephone).

Patient selection: Is your patient and his or her presenting problems appropriate for telepsychology? Have you already established a relationship with the patient in face-to-face settings? Does the patient have a history of suicidal behavior? Is there a safety net or a safety plan previously agreed upon with the patient so that local resources are at hand in case of decompensation? Does your informed consent with the patient include distance provision of services and plans for emergency situations? Do you have a backup plan for contacting your patient should a video link fail? Does your patient have an appropriate place to receive confidential services and have they taken appropriate steps to keep their equipment secure?
Patient location: Is your patient located in the same jurisdiction as you are? How do you ascertain your patient's current location when providing distance services? Does your jurisdiction permit telepsychology services on a routine or an emergency basis? Do you know if your use of telepsychology services is covered by any state or national contingency plan? As I write this, CMS has not published coronavirus specific guidance on telepsychology. The state of Oregon, however, announced on 16 March that it would cover Medicaid services provided via phone or video link. Check your jurisdiction for any updates that they may have, this information changes rapidly.
Provider capabilities: Do you have training in distance service provision? Are you aware of laws and regulations in your jurisdiction governing distance service provision and the policies of your state Medicaid office and of your patient's insurance carrier? Are you a Medicare provider? Please go to www.cms.gov and check back often for updates in a changing situation.
Equipment issues: Are you using secure platforms and taking precautions to ensure that your equipment is in a secure location? Do you have business associate agreements with distance service providers? Does your liability insurance carrier permit telepsychology services, and if so, under what circumstances?
Universal precautions: Do you take appropriate steps to ensure your offices are safe environments, e.g., sanitizing common surfaces, including doorknobs and countertops? Do you have a safety plan and updated emergency contact list for your office staff? Does your waiting room configuration allow for social distancing? Are you advising patients to cancel visits if they are ill?
Psychological well-being. Those of us who practiced in the aftermath of 9/11 will recall one important piece of advice: Humans are generally not good consumers of information. Exposure to the 24-hour news cycle can have negative psychological repercussions, engenders unnecessary anxiety and fear, and promotes irrational behavior such as panic buying. Titrate the information you receive and advise your patients to do them same. Focus on interpersonal relationships that give you strength, care for those in need, and reach out to the vulnerable and needy.
Finally, recall our ethical obligation to do no harm. We can be beacons of calm and rationality in a panicked world. We have obligations to our patients and our communities to act in such a manner. The chances that any of us will be immediately affected by the virus are exceedingly small, and recall that in the vast majority of cases, COVID symptoms are mild and completely recoverable. At this point, we have no idea how long the epidemic will last or if the restrictions being imposed by local and national government entities are too little or too much. But we do know that our knowledge and our interventions can help. Whatever the eventual outcome, by maintaining continuity of care, disseminating accurate information and modeling rational behavior we will have done our part.
Copyright © 2020 National Register of Health Service Psychologists. All Rights Reserved.