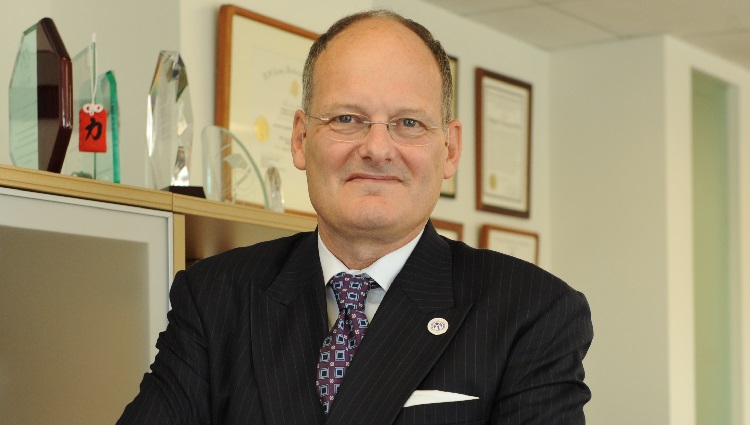 When the fullness of time allows us to look back upon this plague year, most of us will confront a graduated series of emotions. Early on, unfettered relief is bound to predominate, save for those of us still feeling our way through a cycle of loss and grief—loss of family, friends, colleagues, practices, income or job security, and the host of ills begotten upon us by the pandemic. But even those of us lucky enough to have side-stepped such direct losses will be able to apply our experiences in assisting others whose struggle is more urgent. As I learned so directly in working with military personnel who had lost friends and colleagues in action, successful resolution of trauma requires the willingness to accept a new burden. Such burdens are perhaps difficult but are certainly easier to bear than unresolved loss and grief. Those who succeed recognize that it is necessary to accept the burden of carrying on the purpose and ideals of those who died. Rather than being an unendurable weight, their burden turns into an understanding that may be perhaps darker but richer than the pre-trauma existence that must be left behind.
Such therapeutic interventions will be more needed than before. Disparities revealed by the pandemic continue to become more apparent with each passing day. Women, especially women of color, have in general fared worse than men during the pandemic, partly a function of economic vulnerability in lower-paying jobs. While we have seen declines in access to many basic healthcare services over the past year, it should come as no surprise to learn that women are more likely to forgo filling prescriptions for medicines due to cost concerns than are men. What will also come as no surprise to readers of this column is that gender-based disparities in filling prescriptions are higher in the US than in other countries—where the ratio of unfilled prescriptions is almost twice as high for women than it is for men.
Another gender-mediated differential in assessing effects of the pandemic relates to the predominance of women in the healthcare workforce.  In the US, women constitute 76% of health workers. This not only makes women more vulnerable to contagion (although men seem to be more affected by severe variants of the disease itself), but because of the paradoxical effects of COVID-19 on employment in health care, more became subject to under-employment or the necessity to work multiple jobs—again a risk factor for contagion. While data on sex-mediated mental health repercussions of COVID-19 are limited, the mere fact that women predominate in health care and are often in longer-term relationships with patients (e.g., critical care nursing) makes it logical that they are more subject to consequences such as PTSD, chronic depression, and work-related stress. This is especially the case for workers in nursing homes, who are predominantly women. Often overburdened, underpaid, and lacking opportunity for advancement, these healthcare providers are especially susceptible to physical and psychological sequelae of the pandemic. Like others who work in trauma-laden environments, some consequences are unavoidable. Others are not. Staff turnover in nursing homes is extremely high. A recent study has revealed that lower pay, for-profit status, chain ownership, and lower quality ratings for nursing homes were strong predictors of turnover. Nursing home employment requires the ability to deal with ongoing stressful work circumstances. We may not be able to deal with this directly, but we can certainly reward the quiet heroism of many nursing home workers by greater equity in pay and occupational conditions.
Obviously, pandemic mental health differentials apply not only to female healthcare workers. While exact data are missing, it can safely be presumed that women affected by lockdown measures during the pandemic may be more vulnerable to domestic violence. The good news is that increased funding for domestic violence programming, among other budget items addressing social determinants of health, is included in the $1.9T American Rescue Plan signed on March 11 by President Biden. Indeed, a total of $4B is included in the rescue package to address items such as increased rural access to mental health (including telehealth), increased behavioral health funding for Native Americans, $100M to expand the Behavioral Health Workforce Education and Training Program, $50M for youth suicide prevention, and $3.5B to substance abuse and mental health block grants. The plan also extends tax credits for participation in the Affordable Care Act, enrollment in which has dramatically increased with executive actions in the past two months.
The National Council for Behavioral Health has just released a survey of their member organizations, many of which are involved in the direct provision of mental health and substance abuse services. In practically every demographic, demand for services has increased while at the same time pandemic-related financial pressures are causing many organizations to restrict access. Two-thirds of reporting organizations reported an increase in demand. Simultaneously, 25% of member organizations have laid off employees, an equal number have furloughed employees, and 35% have cut back employee's hours. Almost 70% of member organizations have had to cancel, reschedule, or turn away patients in the past three months, and almost half of these organizations now have waitlists. On the positive side, the Payroll Protection Plan was a major boon to many organizations, allowing them to continue to provide at least some services during the pandemic and increasing the chances of survival.
The bad news, of course, is that increasing funding for all of these issues, however meritorious they may be, does not provide any structural remakes to our upside-down healthcare system. This wasn't, of course, the purpose of a rescue package, but it is hard to see more taxpayer dollars going to support the current structure to the benefit of the many middlemen that effectively control health care in this country.
Who Determines Access to Your Patient's Records? Hint: It's Not You.
Attendance at the APA's Practice Leadership Conference held annually in early March is always informative. This year APA's Legal and Regulatory Affairs office offered some valuable guidance pertaining to regulatory changes that will affect psychologists using electronic health records (generally those in large medical centers or agencies)—note that if you do not use an EHR, or only use one for limited purposes that don't include billing and coding, you're exempt, sort of, from these requirements. As I've noted in the past, April 5 was the targeted implementation date for information blocking rules under the 2016 21st Century Cures Act. In very basic terms, these provisions mandate that all information entered into the patient record be made accessible to patients, with very few exceptions (e.g., patient safety, harm to others, release of raw test data, and a few others). The April 5 deadline has been extended by a new comment period that closes on May 6. You can read the detailed text, submit comments, and find out more by clicking on this hyperlink: call for comments. But the bottom line is that regardless of the technical changes resulting from any new considerations, we are entering into a new era of patient access to records. Whether or not you use an EHR, it is safest to presume that anything you enter into a patient record is accessible by patients and that this is retroactive to include any previous entries you've made. These new rules highlight the ongoing dilemma that faces psychologists and others who work with very sensitive patient information—how to adequately document a patient encounter without disclosing such sensitive information. One workaround that has always existed is to keep a set of psychotherapy notes. As long as these are kept physically separate from the official record, they are not discoverable. The formal note should include basic information such as diagnoses, procedures, time spent, and treatment goals and progress. Psychologists working with EHRs have become increasingly sophisticated about how to enter notes into the electronic record, but all providers will still have to adjust to the new and appropriate reality—the expectation that all patient information truly belongs to the patient. There will, of course, be exceptions, as in the case of third-party evaluations like forensic evaluations, competency evaluations, other court-mandated examinations, and other instances where the expectation of privacy is modulated by extra-therapeutic considerations. Whether you view this as an overdue blow to the patriarchal status of providers, an unjust intrusion into psychological practice, or a further erosion of provider autonomy and privacy is moot. The expectation that your notes will forever be the property of the patient and not yours is here to stay. 
Copyright © 2021 National Register of Health Service Psychologists. All Rights Reserved.
Read more articles like this or see examples below.