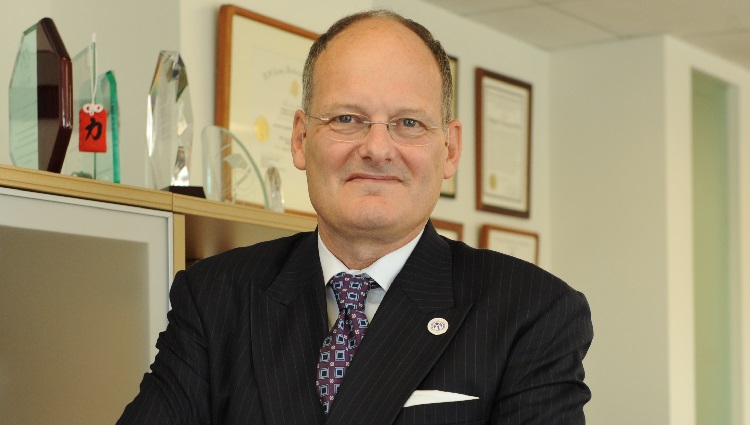 The death of George Floyd and the COVID-19 pandemic have renewed our focus on fundamental societal inequities affecting African Americans and other people of color. It is a fact that we have exposed African American citizens to a level of institutional violence not experienced by European Americans. It is a fact that rates of unemployment and many chronic illnesses are higher for African Americans than for European Americans. It is a fact that institutional barriers to healthcare delivery are higher for African Americans than European Americans. And it is a fact that African Americans die more often from these inequities than do European Americans. Events such as the death of George Floyd cause all reasonable Americans to examine once again these inequities and their pervasiveness in American society. But faced with the magnitude of these wrongs, our responses are often ineffective. It's easy to write about racism and institutional discrimination—if you don't experience it. It's easy to bemoan the existence of such problems and propose sweeping, usually unrealistic solutions. It's less easy to take personal action—to engage in protest marches, contribute money, or demand legislative change. This type of action is legitimate and empowering, and perhaps can be the catalyst for political change, but usually such actions evoke a temporary and short-lived response. I don't argue that we shouldn't be engaging in these activities, I simply point out that without continuous efforts they probably won't result in the kind of systemic change that is necessary to address complex and long-standing inequities. Psychologists can use their role as privileged healthcare providers to advocate for change in many areas, but their voices are particularly likely to be heard when it comes to the provision of mental health services to racial and ethnic minority communities. I'm therefore outlining some problems that the twin crises have brought to light and proposing solutions that psychologists can take, collectively and individually, to rectify them.
It is my belief that a key factor—perhaps the most central factor—in addressing racial inequities is addressing inequities in health care that disproportionately affect minorities. In this space I have long argued that our failure to address social determinants of health is the fundamental problem underlying healthcare inequities in America. Our unwillingness to address clearly demonstrated links between lack of access to social, educational, and health services and poor short- and long-term health outcomes is both costly and unjust. It is expensive because it creates a reactive healthcare system that is focused on treatment for conditions that are often avoidable, and it is unjust in that it burdens financially disadvantaged minority community members not only with disease but with the often unaffordable costs of seeking care. Almost 50% of Americans who report experiencing emotional distress also are concerned about neighborhood safety or having sufficient income for food and shelter—i.e., overwhelmingly those from minority groups.
Shamefully, this number is almost treble that reported in other industrialized nations—those countries long ago realized that investments in social infrastructure paid for themselves in financial and societal terms. One in six American adults is unable to access or afford professional help for emotional distress. Care to wager which ethnicity is most highly represented in that group?
It is abundantly clear that minority populations, particularly African American populations, are differentially affected by COVID-19 both in terms of incidence and mortality rates. The Commonwealth Fund describing these differences called the results nothing less than "stunning." The 681 US counties with higher than average African American populations represent only around 1/3 of the US population but represented over 50% of the cases and 63% of deaths. In New York, African American and Latinx patients are dying at twice the rate of European American populations, and in New Orleans, 70% of cases occur among people of color. In Washington, DC, 75% of COVID-related deaths occur in African Americans. Why? As one commentator pithily stated, "social distancing is a privilege." Minimum wage earners in service jobs have greater exposure—consider the outbreaks in meat-packing plants and seafood packing factories—often live in tighter quarters, and have limited options when it comes to the safe delivery of food and supplies. They also use more of their disposable income on health care than do more affluent families.
To be certain, African Americans are not the only minority population disproportionately affected by COVID. Other underserved populations of whatever ethnicity are as well. But it simply isn't the case that disadvantaged European Americans are reluctant to wear masks in public because of fear of arrest by the police, as recently happened to an African American physician wearing a mask outside his own home in Miami. Low wage structures are a problem that disproportionately affects minority workers. In this country, almost 50 million people, or 30% of the workforce, earn < 1.5x the national minimum wage. Leigh and Du (2018), while noting that the quality of investigations limited their conclusions, found that even small increases in minimum wage of say a dollar or so had beneficial effects on maternal smoking, low birth weight, and health-related job absenteeism.
Professional Action: Advocate with policymakers and legislators to address the effects of poverty, lack of low- or no-cost educational opportunities (including pre- and after-school care), and other social determinants on population mental health. Rebuilding social and real infrastructure in underserved communities is an investment, not a cost, that will ultimately result in lower demands on the healthcare delivery system. Note the effects of poverty on mental and physical health and advocate for changes in minimum wage structures.
Personal Action: Encourage your SPTA and other professional organizations to advocate for research, and dissemination of research findings, into effects of social determinants on individual and population health. Urge local, state, and national representatives to invest in infrastructure development in underserved communities.
Most of the fault lines in our healthcare delivery system that have been exposed by the pandemic are directly associated with the for-profit system of health care that makes the US exceptional among developed countries. In brief, as we have seen in other circumstances, when health care operates on the profit motive, patients lose. One effect of the pandemic is that the already-swollen coffers of Big Health Care continue to grow. Their reserves are growing rapidly because many states have put a temporary stop to elective procedures. In jurisdictions where elective procedures have not been suspended or are now again available, many patients are deferring elective procedures due to fears of contagion. Hospitals are experiencing significant budgetary shortfalls because revenue is dependent on elective procedures and, incredibly enough, many are laying off non-emergency department staff in the midst of a pandemic as a result of these budget shortfalls. There is perhaps no more stark an illustration of the failures of a for-profit model than caregivers being forced to lay off staff in the middle of a pandemic, as many community health centers have been forced to do.
Even emergency departments are not immune. Across the country, not just in COVID hotspot areas, EDs are reporting dramatic declines in usage, in some cases as much as a 50% reduction in visits. There are reports that people are deferring care for critical issues, such as potential stroke or heart attack. While a fear-based avoidance of critical care is unquestionably detrimental, it is unlikely that 50% of all ED visits are for life-threatening emergencies. The Centers for Disease Control and Prevention has reported that during the pandemic, emergency department visits declined by an average of 42% nationwide, though this decline has begun to normalize. In late May, visits were 26% lower than the same time one year ago. The highest patient declines were seen in women and children under the age of 14, and the upper respiratory infections, fever and otitis media were among the diagnoses with the greatest decline. ED visits for myocardial infarctions also declined in adults, indicating that people were deferring intervention for life-threatening conditions.
The CDC report did not note the percentage of uninsured visits to EDs during the pandemic, but it is probable to the point of certainty that minority communities are differentially affected, as these communities lack resources and rely on ad hoc mechanisms for medical and mental health treatment. I believe it is likely that what we are seeing is a reflection inevitable bottleneck that occurs when primary care resources are inadequate, inadequately compensated, or inaccessible due to underinsurance. When patients cannot access routine primary care, the ED becomes the de facto provider of primary care. Until we build robust pathways for all patients to access primary care we are stuck in an expensive loop that misallocates resources and, as we are now experiencing, is susceptible to disruption and one that disproportionally challenges low income people of color.
Professional Action: Educate policymakers and legislators on the benefits of integrated healthcare delivery. Train psychologists with skills in integrated healthcare delivery.
Personal Action: Expand treatment repertoire to include integrated healthcare skills. Gain expertise in working with underserved patient groups. Provide pro-bono services as indicated.
Healthcare provision in communities of color is being differentially affected by reimbursement rates under COVID. Community Health Centers are a lifeline for underserved minority populations. But because outpatient visits in such clinics have declined precipitously during the pandemic, many community health centers may permanently close. The 1,400 community health centers nationwide are essential to the provision of services under the Affordable Care Act. Already subject to repeated budgetary cuts, the existence of these centers is imperiled by legislative initiatives to repeal the Affordable Care Act. At the same time that access to community health centers is shrinking, third party payors are continuing to require cost-sharing for COVID medical expenses, including diagnostics and treatment and billing for services, and out of network and surprise billing for costs associated with COVID treatment. Legislative or executive order protections guarding against loss of employment or insurance caused by COVID are now beginning to expire, many have not been renewed. This increases the risk that patients losing jobs and associated insurance coverage may have their slender financial resources drained by COVID related illness.  
Professional Action: Demand that your state and national organizations advocate with elected federal representatives to fund these lifelines for healthcare in minority communities. Since many such agencies are funded under the ACA, demand that legislators stop attempts to repeal the ACA.
Personal Action: Write to your elected representatives demanding an end to attempts to repeal the ACA. Vote according to the responses you receive. If you are a psychologist working in a community health center, work with leadership to contact local media so that fellow citizens understand the essential nature of CHCs in minority health.
Ridding the healthcare system of inequities that differentially affect African Americans and other minority communities is both the most concrete and perhaps the most enduring goal that we as a nation can accomplish. Advocating for better allocation of mental health resources and the healthcare infrastructure to deliver them is a positive and highly effective action step that psychologists and psychology can take. Such investments are costly, but models demonstrate that this is an investment that pays off. Such steps, however, run contrary to political philosophies that resist spending on social programs. We must ask to what extent these policies are undergirded by silent, racist assumptions. Such steps will also be opposed by Big Health Care, which profits immensely from our current ethos of treating pathology and minimizing prevention. When the profit motive drives healthcare, patients suffer, but minority patients suffer most of all. This is an issue that psychology and psychologists must engage. Finally, I urge us to become more educated about the pervasive nature of discrimination and its effects. To that end, we are publishing a resource page of readings. I'm grateful to John Norcross and Robyn Gobin of the National Register's Board of Directors for helping us compile this very important list.
Copyright © 2020 National Register of Health Service Psychologists. All Rights Reserved.
Resources
Online
Resources for engaging in anti-racism work and practicing solidarity:
Resources for Black, Indigenous and People of Color (BIPOC) to engage in self-care:
News media
Akyirefi Smith, K. R. (June 5, 2020). In Milwaukee's racial climate, there is a problem behind the problem that creates anarchy, chaos and division. https://www.google.com/amp/s/amp.jsonline.com/amp/3147055001
Organizations and Donations
Equal Justice Initiative (https://eji.org/bryan-stevenson/)
Campaign Zero (https://www.joincampaignzero.org/#vision)
Black Lives Matter (https://blacklivesmatter.com/partners/)
Readings
Aymer, S. R. (2016). "I can't breathe": A case study—Helping Black men cope with race-related trauma stemming from police killing and brutality. Journal of Human Behavior in the Social Environment, 26(3-4), 367-376.
Blasini-Méndez, M. (2019). Interpersonal postcolonial supervision: Facilitating conversations of countertransference. Training and Education in Professional Psychology, 13(3), 233–237. https://doi.org/10.1037/tep0000239
Brinkman, B. G., & Donohue, P. (2020). Doing intersectionality in social justice oriented clinical training. Training and Education in Professional Psychology, 14(2), 109–115. https://doi.org/10.1037/tep0000274
Bryant‐Davis, T., Adams, Bryant‐Davis, T., Adams, T., Alejandre, A., & Gray, A. A. (2017). The trauma lens of police violence against racial and ethnic minorities. Journal of Social Issues, 73(4), 852-871.
Burnes, T. R., & Christensen, N. P. (2020). Still wanting change, still working for justice: An introduction to the special issue on social justice training in health service psychology. Training and Education in Professional Psychology, 14(2), 87–91. https://doi.org/10.1037/tep0000323
Carter, R. T., Lau, M. Y., Johnson, V., & Kirkinis, K. (2017). Racial discrimination and health outcomes among racial/ethnic minorities: A meta‐analytic review. Journal of Multicultural Counseling and Development, 45(4), 232-259.
Comas-Díaz, L., Hall, G. N., & Neville, H. A. (2019). Racial trauma: Theory, research, and healing: Introduction to the special issue. American Psychologist, 74(1), 1.
Curtis-Boles, H., Chupina, A. G., & Okubo, Y. (2020). Social justice challenges: Students of color and critical incidents in the graduate classroom. Training and Education in Professional Psychology, 14(2), 100–108. https://doi.org/10.1037/tep0000293
Franklin, A. J., Boyd-Franklin, N., & Kelly, S. (2006). Racism and invisibility: Race-related stress, emotional abuse and psychological trauma for people of color. Journal of Emotional Abuse, 6(2-3), 9-30.
Hage, S. M., Miles, J. R., Lewis, J. A., Grzanka, P. R., & Goodman, L. A. (2020). The social justice practicum in counseling psychology training. Training and Education in Professional Psychology, 14(2), 156–166. https://doi.org/10.1037/tep0000299
Hagler, M. A. (2020). LGBQ-affirming and -nonaffirming supervision: Perspectives from a queer trainee. Journal of Psychotherapy Integration, 30(1), 76–83. https://doi.org/10.1037/int0000165
Helms, J. E. (2020). A race is a nice thing to have: A guide to being a white person or understanding the white persons in your life. Cognella.
Hook, J. N., Davis, D., Owen, J., & DeBlaere, C. (2017). Cultural humility: Engaging diverse identities in therapy. American Psychological Association.
Hooley, E. M. (2019). Power, diversity, and relational process within supervision. Training and Education in Professional Psychology, 13(3), 212–215. https://doi.org/10.1037/tep0000235
Jendrusina, A. A., & Martinez, J. H. (2019). Hello from the other side: Student of color perspectives in supervision. Training and Education in Professional Psychology, 13(3), 160–166. https://doi.org/10.1037/tep0000255
Kendi, I. X. (2017). Stamped from the beginning: The definitive history of racist ideas in America. Random House.
Kendi, I. X. (2019). How to be an Antiracist. One World/Ballantine.
Knutson, D., Chwalisz, K., Becerra, M., Christie, M. B., Coleman, M. E., Couch, C., & Perinchery, R. (2020). Student development in the context of a beginning-level social justice practicum. Training and Education in Professional Psychology, 14(2), 145–155. https://doi.org/10.1037/tep0000288
McKinley, M. T. (2019). Supervising the sojourner: Multicultural supervision of international students. Training and Education in Professional Psychology, 13(3), 174–179. https://doi.org/10.1037/tep0000269
National Association of School Psychologists. (2016). Supporting Marginalized Students in Stressful Times: Tips for Educators [handout]. Bethesda, MD: Author.
Neville, H. A., Gallardo, M. E., & Sue, D. W. E. (2016). The myth of racial color blindness: Manifestations, dynamics, and impact. American Psychological Association.
Patallo, B. J. (2019). The multicultural guidelines in practice: Cultural humility in clinical training and supervision. Training and Education in Professional Psychology, 13(3), 227–232. https://doi.org/10.1037/tep0000253
Pearlstein, J. G., & Soyster, P. D. (2019). Supervisory experiences of trainees with disabilities: The good, the bad, and the realistic. Training and Education in Professional Psychology, 13(3), 194–199. https://doi.org/10.1037/tep0000240
Port, M. S. (2019). Effects of supervision on a trainee's clinical internship experience in central Africa. Training and Education in Professional Psychology, 13(3), 180–184. https://doi.org/10.1037/tep0000259
Qi, W. (Gabriel), Wang, Z., Wu, L. Z., & Luo, X. (2019). Multicultural supervision with Chinese international trainees. Training and Education in Professional Psychology, 13(3), 185–193. https://doi.org/10.1037/tep0000254
Stevenson, B. (2019). Just mercy: A story of justice and redemption. Spiegel & Grau.
Thrower, S. J., Helms, J. E., & Manosalvas, K. (2020). Exploring the role of context on racially responsive supervision: The racial identity social interaction model. Training and Education in Professional Psychology, 14(2), 116–125. https://doi.org/10.1037/tep0000271
Thomas, F. C., Bowie, J.-A., Hill, L., & Taknint, J. T. (2019). Growth-promoting supervision: Reflections from women of color psychology trainees. Training and Education in Professional Psychology, 13(3), 167–173. https://doi.org/10.1037/tep0000244
Thompson, S. M. (2020). Responding to inappropriate client sexual behaviors: Perspectives on effective supervision. Journal of Psychotherapy Integration, 30(1), 122–129. https://doi.org/10.1037/int0000166
Treichler, E. B. H., Crawford, J. N., Higdon, A., & Backhaus, A. L. (2020). Diversity and social justice training at the postdoctoral level: A scoping study and pilot of a self-assessment. Training and Education in Professional Psychology, 14(2), 126–137. https://doi.org/10.1037/tep0000281.supp (Supplemental)
Turner, E., & Richardson, J. (2016). Racial trauma is real: The impact of police shootings on African Americans. Psychology Benefits Society, 14.
Valmas, M. M., Himrich, S. J., & Finn, K. M. (2020). Women's experiences of supervision and professional development. Journal of Psychotherapy Integration, 30(1), 130–139. https://doi.org/10.1037/int0000182
Williams Kapten, S. (2020). Power, powerlessness, and the parallel process. Journal of Psychotherapy Integration, 30(1), 147–154. https://doi.org/10.1037/int0000168
Williams, T. R., & Raney, S. (2020). Relational cultural supervision enhances the professional development of postdoctoral residents of color in health service psychology. Journal of Psychotherapy Integration, 30(1), 140–146. https://doi.org/10.1037/int0000169