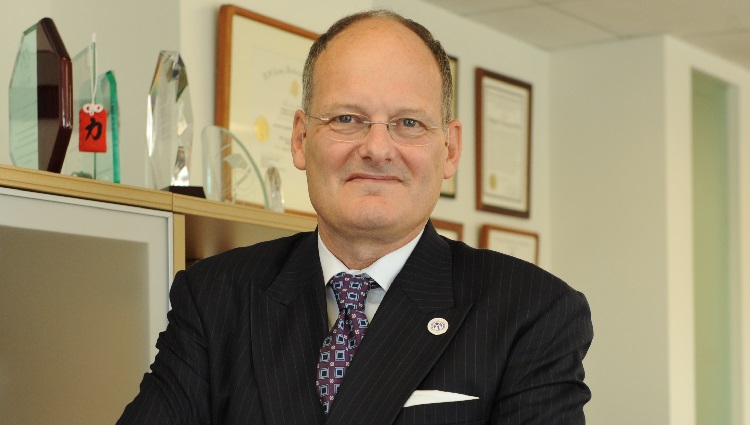 Colleagues, each December I'm pleased to devote my monthly column to providing you with an annual report on the state of the National Register. On the top of my list of good news to share is the fact that again this year, for the fourth year in a row, the Register can report another year of growth. This is pretty extraordinary, if I say so myself, since almost half of all individual member organizations (which is how we are classified) have seen significant membership depletion during the pandemic. I believe it's a testament not only to your allegiance in hard times but to the expanding array of benefits that we are able to present. From webinars to journal articles to podcasts, we have your clinical education needs covered. We are truly living up to our tagline and will continue to serve you as the professional home for doctoral-level health service psychologists.
One very exciting fact about our continued growth in membership is that we've been able to attract an increasingly younger cohort of health service psychologists to the organization. The average degree date of our new Registrants is 2013, and the percentage of Registrants aged 45 and younger continues to increase. The balance of wisdom accumulated by our long-time Registrants and enthusiasm of our recent joiners makes for a very intellectually healthy organization.
Several years ago, we transformed our graduate student association, then called the National Psychologist Trainee Register to the National Register Associate Program. Our Associates numbers continue to grow, from around 1,500 four years ago to more than 5,000 today. As always, Associates receive numerous benefits designed to aid them in the completion of their graduate program and their path towards licensure. Among the new benefits that we are pleased to offer is an Internship Travel Scholarship. In 2022 in conjunction with the American Psychological Foundation we will offer this scholarship to all graduate students in APA/CPA accredited programs. We will award forty $1,000 scholarships to assist graduate students in traveling from their doctoral program to their predoctoral internship site. All of us remember the financial hardship associated with moving (I moved across country) from our graduate programs to internship. This is just one way we have of giving back to the next generation of psychologists. You'll be hearing more from me about this scholarship in the near future.
Another thing we've done for graduate students is initiate a certificate program designed to assist them in transitioning from their academic studies to the world of clinical practice. These certificates are in keeping with our legacy of providing material focused on complex clinical decision-making. These certificates are comprised of three 90-minute webinars run by an expert on the topic, assisted by members of their research and clinical team. We've run two so far, one on management of suicide and the other on management of patients with psychosis. They've been extraordinarily popular. This spring, Dr. Neftali Serrano and his team from Collaborative Family Healthcare Association will provide a certificate on integrated care. In the Fall of 2022, Dr. Dave Jobes will return with his popular suicide management series. While these programs are aimed at associate members, their educational content is of interest to all health service psychologists. I urge you to consider signing up for one of these.
Three years ago, we launched the National Register Practice Academy, an educational site that allows psychologists who aren't eligible for the Health Service Psychologist credential and mental health practitioners with non-psychology degrees to partake of our continuing education opportunities. I'm very pleased to report that membership in the Practice Academy is growing nicely. I think it's a great example of how the Register can disseminate our high-quality clinical information to a larger audience. Of course, access to our educational courses is a benefit of membership for all Registrants and Associates. Last year we issued over 22,000 continuing education certificates, placing us in the top tier of providers of CE for psychologists. We're busy working on our CE schedules for 2022—stay tuned!
This past year, we've worked hard to establish a closer alignment with our sister organization in Canada, the Canadian Register of Health Service Psychologists. I'm happy to report that the two organizations are now sharing a common infrastructure, and we'll be working with our Canadian colleagues to expand our continuing education offerings to produce more material of interest to Canadian psychologists. The goal of international practice in psychology has always been somewhat elusive, I see this is a concrete step towards making us a truly international profession.
Also in this eventful year, Dr. Kate Nooner became the managing editor of our growing journal, the Journal of Health Service Psychology. Kate is actualizing the vision that Gary VandenBos and I had when we converted the Register Report to a journal format in 2017. Our journal is maturing nicely, the number of submissions to the journal continues to grow, and we have been successful in maintaining our focus on purely clinical translational research. For too long, academic journals have ignored the needs of the practitioner in everyday practice. We aimed to fill that niche, and we've done so very well.  We're grateful to our partners at Springer Nature for publishing the journal for us and to the Associate Editors of JHSP—Damion Grasso, Abbey Hughes, Kamini Krishnan, Melissa Santos, and Eva Woodward. Late this year, we also adopted another journal into our portfolio. We are now the publisher of Pragmatic Case Studies in Psychotherapy, another journal that will expand our purely clinical focus. Published for many years by Rutgers University, with Dr. Dan Fishman as the Editor, Pragmatic Case Studies provides cases of interest that are analyzed from a variety of theoretical perspectives. It's of high interest to clinicians, supervisors, and trainees, and we're proud to publish it. Dan Fishman will be continuing as Editor, with the able assistance of our senior professional consultant Gary VandenBos. Look for the first issue early in the new year.
Finally, I'd be remiss if I didn't provide a shout-out to all of the staff that keep the organization functioning and responsive to your needs. Our Chief Operating Officer, Andrew Boucher, has kept us running smoothly during this pandemic year of remote working. He's assisted by our administrative services coordinator Oni Jones, whose voice you often hear on the telephone when you call us, and Porscher Charles, a graduate student in counseling who's working part time with us. Our communications and marketing team keep your CEs current (thank you Terry Bardagjy!) and our website, webinars, and podcasts running seamlessly (thank you Catherine Rothwell!). Our e-newsletters and other communications come to you with thanks to Kimmy Wu. Kim Haynes Preston and Laura Rhymes provide as always support to our new Registrants and Associate members as they work their way through the credentialing process. We're a small team but a mighty one, we strive hard to make our organization impactful and of immediate assistance to you, the doctoral-level health service psychologist. This is your organization, and we are grateful to all of you for your support through the years. I wish you the happiest of holidays and a wonderful, plague-free 2022!
Copyright © 2021 National Register of Health Service Psychologists. All Rights Reserved.
Read more articles like this or see examples below.